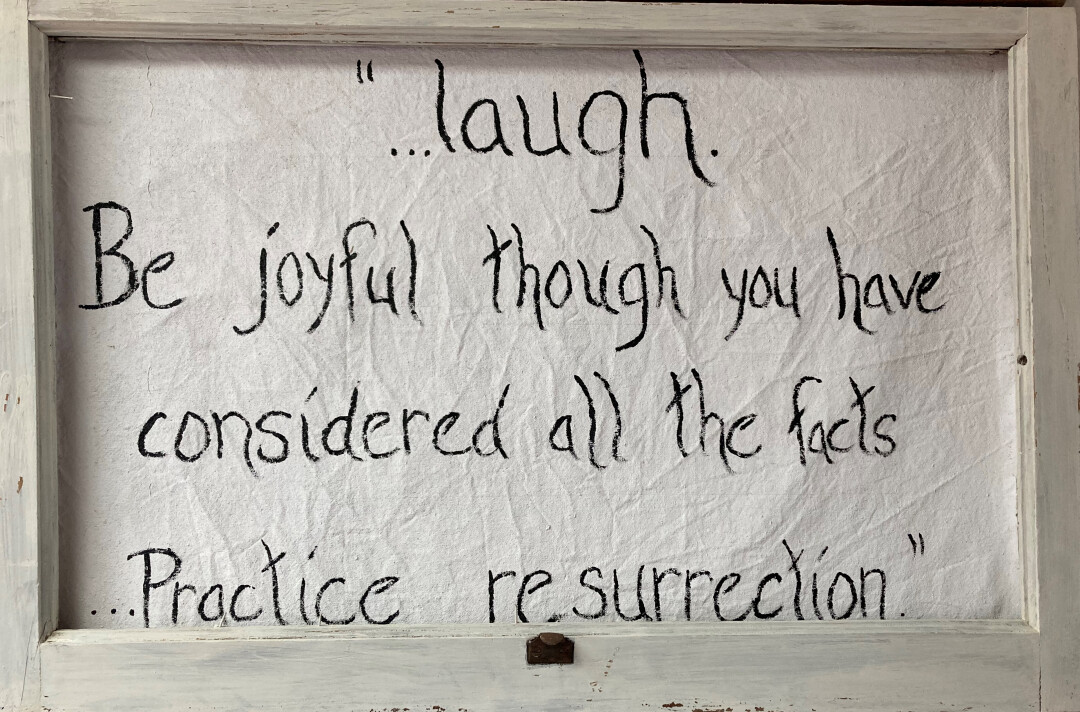 "Every word you write is a smite against the devil."
I came across that quote in Edmund Morris' biography of Theodore Roosevelt, when, as a young man, Roosevelt explains his prodigious journaling habit. Roosevelt believed deeply in the power of words to form hearts, define reality and take ground.
I've had the urge to smite lately. Some because I have come to a place in my journey where I have some stories to share and convictions to speak; more because the past two pandemic years have created some distance—real and perceived—between you—the Waterstone congregation—and me. I want to move closer, to talk with you more and widely through this effort of writing. I don't know if it will be called a blog or a journal or a series of letters; I just want to write for a while so you know my heart for some things.
Emily Clauss (who, by the way, is a joy-full writer with the good gift of succinctness and has been the writing voice of Waterstone and myself for over a decade) asked me what to call this new writing venture. I want to give it the title "Practice Resurrection." This of course is the last line from Wendell Berry's poem "Manifesto: The Mad Farmer's Liberation Front." These two words have formed my heart and defined reality for me. In fact, I write under these words as I write to you now. Berry's encouragement is to actually live (and write) as if Christ is risen from the dead. All things forgiven. All things new.
So let's practice resurrection. Here we go...
During the first weeks of the war in Ukraine, I saw an image that seared into my memory: a Ukrainian woman being carried on a gurney by four emergency workers after a bomb turned her hospital into rubble. The woman is long into her pregnancy, and she is holding her hand low under her womb, cradling her unborn child. It is especially hard to look at her ashen face reflecting her shock at what had just happened. I close my eyes to pray and I see this image.
Several days later I learned that this woman and her baby died. When I think of it, I am heartbroken. But I also feel so angry—a raging resentment—that this young mother and her innocent child were violently killed because Russia's leader decided he wants a neighboring sovereign country as his own.
The war, the atrocities in Ukraine make us feel helpless. We see the images and read the accounts of civilian targets being shelled, and we wrestle with what to do with this anger and heartbreak.
When we gathered for the first worship services after Russia's invasion of Ukraine, Elliot Campbell led us to pray Psalm 7:14–16: "Whoever is pregnant with evil conceives trouble and gives birth to disillusionment. Whoever digs a hole and scoops it out falls into the pit they have made. The trouble they cause recoils on them; their violence comes down on their own heads."
Welcome to the imprecatory psalms, given for moments like these.
The imprecatory psalms call down destruction, calamity, and God's judgment on enemies. Most of the time we don't know what to do with them (when was the last time you heard Psalm 109 read in church?). They are uncensored in their articulation of hatred and anger. They are immediate in their disdain with no three second time lapse to bleep out the bad words that come between what is felt and what is said. We in the American church tend to gravitate toward more measured promises of God's presence and mercy. We are discomforted with the violence and vengeance found in these psalms, and we wonder what they have to do with a God of love.

In a recent article in Christianity Today, Tish Harrison Warren writes that during her seminary training, she had a professor from Northern Ireland who lived through the Troubles, the 30-year ethno-nationalist violence in Northern Ireland. He witnessed violence against the innocent firsthand. This professor shared that when he was younger and a seminarian himself, he rewrote a psalm for a class assignment in which he prayed that any terrorist who made a bomb would have it blow up in his face. His American professor pulled him aside, chastised him for using such violent imagery, and told him he needed to repent. Warren's Irish professor, reflecting on this memory, told his students that he realized then his American professor had never witnessed unprovoked violence against innocents and children.
The imprecatory psalms remind us that we do not yet live in the new heavens and the new earth. The imprecatory psalms name and protest the present evil. They give us language to express necessary outrage about injustice perpetrated on others. They call on God to enter the darkness to do something about it. They resolve that the God who has created and calls every Ukrainian and every Russian to know him will also avenge wrong and bring ultimate judgment on human hostility. These psalms call us to the reality that every day in this world someone needs us to pray an imprecatory for them. This is probably the reason why there are so many imprecatory prayers in the Psalms. Tish Harrison writes, "[The imprecatory psalms] remind us that those who have great power are able to destroy the lives of the weak with seeming impunity. This is the world we live in. We cannot simply hold hands, sing 'Kumbaya,' and hope for the best...Those of us who long for lasting peace cannot base that hope on an idea that people are inherently good and therefore unworthy of true judgment. Instead, we find our hope in the belief that God is at work in the world, and he is as real—more real—than evil." (Christianity Today, March 8, 2022)
And what is this present work of God in this brutal world? The imprecatory psalms instruct us that we are not merely praying that violence triggers more violence in endless cycles of vengeance. Rather, we are asking that God will ricochet people's evil actions back on themselves, as we prayed in Psalm 7: "Whoever digs a hole and scoops it out falls into the pit they have made. The trouble they cause recoils on them; their violence comes down on their own heads."
In other words, we pray as Tish Harrison's professor did, "May their bombs explode in their faces."
Of course we can pray for Putin's repentance and for Russian soldiers to lay down their weapons in protest of their government's intentions. But this is also a moment to be confronted and comforted by God's gift of the imprecatory prayers. At Waterstone we say, "Pray a psalm every day" (reading it aloud if possible and paying attention to what or whom the Holy Spirit brings to your mind). You will be impressed with the resources we have for terrible times. We will begin to understand how God cares deeply about what is happening in the Ukraine. And we will be strengthened by how God reveals himself not as a soft, cream-of-wheat god who only forgives and always tolerates. He takes his rule seriously. He takes seriously what people do to people. The anger of the Psalms is evidence of his love for what he has made, and they signal again the holiness of his being, and ours. This is a moment when we plead for God's mercy but also lean into his righteous, loving, and protective rage.